Heidi Strong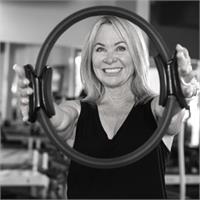 Studio Owner & Pilates Instructor
I opened Pilates Napa Valley in April 2007 after completing the 450-hour intensive Pilates comprehensive apparatus certification through the Physical Mind Institute method. I was inspired by the immediate changes in my own body after practicing three times a week for only one month myself, and chose to shift gears from my 25-year graphic design career, and learn to teach Pilates. I love training my clients of all ages and fitness level, and watching their bodies and lives change through Pilates, just as mine did.
Heidi Strong instructs the following:
Our signature Reformer class targets core stability muscles, improving overall muscle tone, strength, and flexibility. Designed to improve mobility and enhance athletic competence through proper form, breath and muscular function. You will develop a deepening awareness and activation of intrinsic core postural muscles, reforming your body from the inside out! This is an efficient, effective whole "hardbody" workout for every body! Appropriate for all levels. (55 minutes)

*Work performed primarily on the Reformer with some Pilates Chair and Wall Tower as space permits.




This class is a fast paced multi-apparatus (primarily Reformer) "Turbo" workout, utilizing small props and cardio bursts to get your heart pumping and calories burning. We'll target core stability muscles from the inside out to slim and tone the body without bulking...it's going to Amp you up for your day and week ahead!

*Must have attended at least 10 Re:form School classes (or equivalent at another studio) before signing up for this class. Not suitable for beginners, those with injuries, or de-conditioned core. Please call Heidi @ 707-332-0799 if you have questions - thank you!