Kate Petersen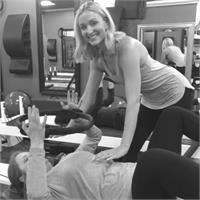 Kate Petersen instructs the following:
The perfect start of your day, these early morning classes are appropriate for any level. With simple adjustments of resistance, and focus on the core Pilates principles, the same movements are adjusted to suit beginner, intermediate and advanced levels. Exercises will leave you feeling challenged, focused and better aligned! Your Pilates practice will grow and improve immeasurably. (55 minutes)




This class is ideal for all levels. We will work quickly with little rest or set-up as we progress through flowing Pilates exercises on the Reformer with small props and apparatus. Prior experience and knowledge with the basic Pilates principles and movements are a plus, but not required. Beginner/intermediates ready for the next level of challenge are welcome to join, knowing this will be a faster paced class. Modifications will be offered as needed.