Kate Petersen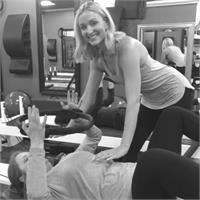 Kate Petersen instructs the following:
The perfect start of your day, or a great mid-day reboot, this class are appropriate for any level. With simple adjustments of resistance, and focus on the core Pilates principles, the same movements are adjusted to suit beginner, intermediate and advanced levels. Exercises will leave you feeling challenged, focused and better aligned! Your Pilates practice will grow and improve immeasurably. (55 minutes)




This 55-minute class is ideal for all looking to strengthen, lengthen and tone while gearing down from your day. Experience a delightful flowing tempo, with instructor cues to engage muscles and stretch fascia, while alleviating tension in the neck and shoulders. Perfect for those brand new to Pilates, or experienced students looking to deepen awareness of their core connection, breath, form, precision, and control in a relaxed state.

Learn to B R E A T H E and B E ~ !




Our signature Reformer class targets core stability muscles, improving overall muscle tone, strength, and flexibility. Designed to improve mobility and enhance athletic competence through proper form, breath and muscular function. You will develop a deepening awareness and activation of intrinsic core postural muscles, reforming your body from the inside out! This is an efficient, effective whole "hardbody" workout for every body! Appropriate for all levels. (55 minutes)

*Work performed primarily on the Reformer with some Pilates Chair and Wall Tower as space permits.