Natasha Simmons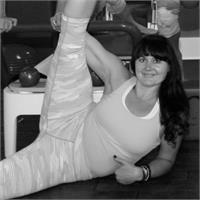 Pilates Instructor
Natasha studied under Gretchen Iniguez of Lifestyle Pilates in April of 2018. She studied and certified to teach both mat and the reformer apparatus. The training focused on athletic Pilates with heavy influences of the classical style.
Natasha has also received her BarreAmped® Certification in March of 2013, MOTR certifications with Balance Body in September of 2013, personal training and Piloxing® in March of 2014 and was certified in Piyo in February of 2015.
Natasha looks forward to using all of her learned certifications that were heavily influenced by Pilates to instruct our clients at Pilates Napa Valley. She plans on structuring each workout to challenge the body and mind.
Natasha Simmons instructs the following:
Our signature Reformer class targets core stability muscles, improving overall muscle tone, strength, and flexibility. Designed to improve mobility and enhance athletic competence through proper form, breath and muscular function. You will develop a deepening awareness and activation of intrinsic core postural muscles, reforming your body from the inside out! This is an efficient, effective whole "hardbody" workout for every body! Appropriate for all levels. (55 minutes)

*Work performed primarily on the Reformer with some Pilates Chair and Wall Tower as space permits.




In this class, we put the fun in learning the Pilates FUNdamentals! Great for students new to Pilates, those who are recovering from injury, or are simply de-conditioned from lack of regular movement. Renew your mind, body and spirit in this classically-styled Pilates class. A great introduction to the Pilates apparatus, you will learn the principles of Pilates through mindful breathing and movement on the Mat, Tower, Chair and Reformer. All exercises are designed in a specific order to improve overall strength, balance and flexibility over time. "In 10 sessions you'll feel the difference, in 20 sessions you'll see the difference, and in 30 sessions you'll have a whole new body." - Joseph Pilates




This class is a fast paced multi-apparatus (primarily Reformer) "Turbo" workout, utilizing small props and cardio bursts to get your heart pumping and calories burning. We'll target core stability muscles from the inside out to slim and tone the body without bulking...it's going to Amp you up for your day and week ahead!

*Must have attended at least 10 Re:form School classes (or equivalent at another studio) before signing up for this class. Not suitable for beginners, those with injuries, or de-conditioned core. Please call Heidi @ 707-332-0799 if you have questions - thank you!